Helen Keller Research Informs Global Health Policies on Infant and Young Child Health
Image: Ad in Senegal for Bledina products cross-promotes breastmilk substitutes with complementary foods for older children.
Nutrition during the first two years of life is key.  It helps children grow, feeds intelligence, and provides the foundation for a healthy and productive life. Focusing on this key window of opportunity is part of Helen Keller International's overall strategy to target young children and their mothers with proven Essential Nutrition Actions that provide the right nutrition support when it is most needed.
Our Assessment and Research on Child Feeding (ARCH) project focuses on improving nutrition during the critical first two years of life.
ARCH investigated what types of commercially produced foods children under two were eating in Cambodia, Nepal, Tanzania, and Senegal. They also found out what kind of ads mothers saw promoting these foods. The purpose was to inform decision makers about how to improve policies that support infant and young child nutrition.
For example, the World Health Organization is developing guidance on the inappropriate promotion of foods for infants and young children, and ARCH research findings are being used to inform them.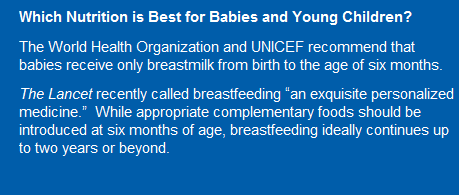 During the research process, ARCH also investigated other foods children are fed in the first two years of life, like breastmilk, breastmilk substitutes, and commercially produced snack foods, such as chips and cookies. They also assessed what types of ads mothers see for these foods.
Some of the research findings—now published online in the Maternal & Child Nutrition journal—were startling.
As a guest column by ARCH in Devex reports, the research found shockingly high levels of promotion for breastmilk substitutes. In Cambodia, for example, 86% of mothers reported seeing ads for them. These products are being promoted even though Cambodia has laws restricting the marketing of breastmilk substitutes.
The International Code of Marketing of Breast-milk Substitutes, also known as "the Code," was agreed on in 1981 at the World Health Assembly, and it supports and protects breastfeeding and prohibits this kind of marketing.
But that wasn't the only issue that undermines breastfeeding. The study found that commercially produced milks designed for children older than six months of age are frequently labeled like infant formula. This practice was widespread in the study countries and can mislead mothers.
Project Director Elizabeth Zehner said, "This research really opened our eyes to the widespread violations of the International Code of Marketing of Breast-milk Substitutes in our study countries. This has serious implications for breastfeeding, which deserves better protection. We were also surprised to find how many babies are being fed sugary and salty commercially produced snack foods. This can put children at risk not only of malnutrition, but also of developing obesity and chronic diseases later in life."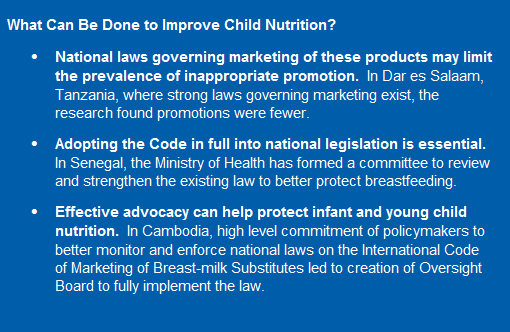 And just like in the United States, many mothers in this study reported feeding their infants and young children sugary and salty snack foods. In fact, ARCH found that commercially produced snack foods were the most highly promoted foods fed to young children. In Nepal, 74% of mothers said their children from 6-23 months of age consumed a commercially produced snack food on the day prior to interview. And nearly all these mothers — 97% — observed a promotion.
Eating commercial snack products high in salt or sugar can displace consumption of other more nutritious foods. These foods are also associated with dental caries and increased risk for overweight and developing chronic disease later in life.
Helen Keller International is supporting advocacy around the world to protect children in their vulnerable first two years.
To learn more about the study findings, please see this brief about the ARCH project.